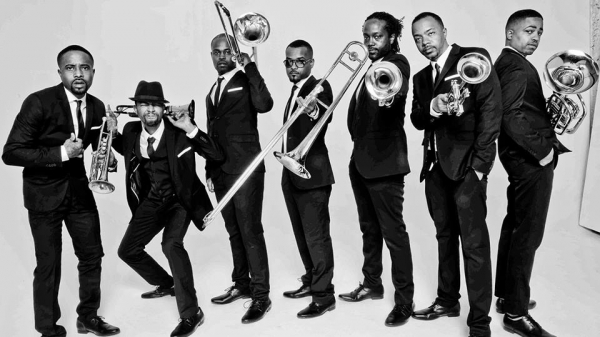 Wednesday, 8 May, 2019 -

19:30

to

22:30
Delighted to welcome back one of our favourite bands! The mighty Hypnotic Brass Ensemble!
Dubbed as the Original Bad Boys of Jazz, The Hypnotic Brass Ensemble (HBE) are 7 incredibly talented kin originating from Chicago, based in NYC and have blazed a trail as leading artists in the music industry today. With the respect and personal invitation of some of the greatest artists of all time, HBE have shared stages with Prince, Yasiin Bey (Mos Def), Damon Albarn, Snoop Dogg and De la Soul while gracing the most prestigious stages and acclaimed festivals worldwide. Building a strong technical foundation under the teaching and mentorship of their father, renowned jazz trumpeter Kelan Philip Cohran (Earth Wind & Fire, Chaka Khan and Sun Ra Arkestra), the brothers honed in on all aspects of their craft, mastered their respective instruments and formed the Phil Cohran Youth Ensemble in 1990. While touring the US performing the complex original written jazz compositions of Cohran, the brothers traversed compositions of the greats - from Ellington to Basie, Bach to Beethoven; they accumulated extraordinary breadth in their repertoire from the tender ages of their youth. Being exposed to the music of their own generation, elements of hip-hop, rock and reggae, for example, became absorbed into the cosmic jazz style of their father. A distinct sound was established and The Hypnotic Brass Ensemble dawned. 2001 saw Hypnotic Brass Ensemble release their debut, award-winning LP 'Satin' and garnered over 50,000 sales nationwide! Island DEF JAM offered Hypnotic Brass an alluring recording contract and an opportunity to collaborate with industry heavyweights, No ID (mentor to Kanye West) & Ghostface Killah. HBE pursued as independent artists and relocated to New York City following their second release 'Jupiter' in 2005. BLUR lead singer, Damon Albarn was hooked and added the release to his UK distribution via his imprint, Honest Jons. As the brothers original sound continued to blossom and come into its own, they would capture the attention of hip hop giant, Mos Def, who subsequently invited HBE to join him onstage as the Mos Def Big Band. The big band lineup also included Robert Glasper, Chris Dave and Casey Benjamin. Hypnotic continue to support Yasiin Bey (Mos Def), beyond the days of the big band and continue to back his other projects such as BLACK STAR (w. Talib Kweli). From 2008 and beyond, Hypnotic Brass has performed their original tunes in every corner of the globe, gracing audiences as big as 110,000 and premier music venues around the world. The brothers continue to accomplish success from their hard work, self-management and clever partnerships. Blockbuster film 'Hunger Games' featured HBE song title 'WAR' and 2009 was a breakthrough year for Hypnotic Brass Ensemble. Releasing self-titled LP in the same year, HBE recorded with The Gorillaz on 'Welcome to Plastic Beach' and have been on the world festival circuit ever since. They have performed with Bobby Womack, Mick Jones, De La Soul & Snoop Dogg. Wielding their signature dose of hard brass on the international circuit, HBE was personally requested by the man himself, PRINCE, to accompany him onstage and back him at the New Power Generation Festival 2011. Hypnotic Brass Ensemble has grown into an even newer sound with their latest efforts "BulletProof Brass" & "FLY" released by their very own imprint PHEELCO Entertainment. They are now gearing up to release a new instalment entitled "Bad Boys Of Jazz".