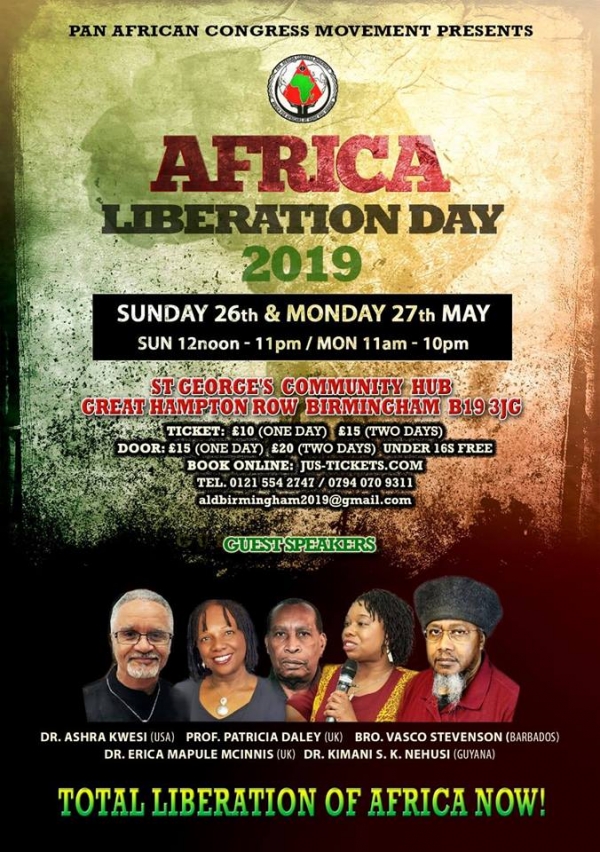 Sunday, 26 May, 2019 - 12:00

to

Tuesday, 28 May, 2019 - 22:00
Africa Liberation Day (formerly African Freedom Day) is the annual commemoration of the foundation of the Organisation of African Unity (OAU) (now known as the African Union) on 25 May 1963. It is now commemorated throughout the Pan - African world. PACM has been commemorating ALD in the UK since 1975.
ALD 2019 will feature international speakers such as:
*Dr Ashra Kwesi (USA)
*Professor Kimani Nehusi (Guyana)
and local speakers such as:
*Professor Patrica Daley
*Dr Erica McInnis
*Bro Vasco Stevenson
Plus
*Youth Conference
*African Cultural Market
*Edutainment
*Spoken Word
*Solidarity messages
*Hard food / Vegan / Vegetarian
DATE:
Sunday 26th May Time: 12noon - 11pm
Monday 27th May Time: 11am - 10pm
For more info / Stall:
Birmingham 0121 554274