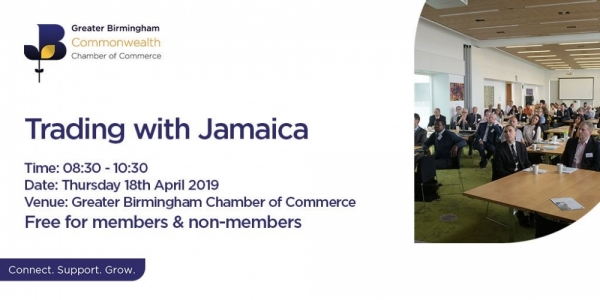 Thursday, 18 April, 2019 -

08:30

to

10:30
Trading with Jamaica
Time: 08:30 - 10:30
Date: 18/04/2019
Venue: Greater Birmingham Chamber of Commerce
Division: Commonwealth
General Price
Member Price: Free
Future Faces Members: Free
Non-Member Price: Free
All prices exclude VAT
Event Description: There is more to Jamaica than its captivating culture and its ranking as the "3rd Coolest Country in the World" by the US television news network CNN. Jamaica's growing business sophistication as a small island developing state with enormous possibilities for trade and inward investment, makes it a destination of choice for discerning investors and businesspeople.
Strategically located at the gateway of the major air and sea routes into the Caribbean, Jamaica is within easy reach of the major global markets, with over half a billion of the world's population living within a four hour flight radius.The island also has the largest English-speaking workforce in the Caribbean, which is known globally for its creative and enterprising spirit.
This session will be done in partnership with JAMPRO. JAMPRO is an Agency of the Government of Jamaica's Ministry of Industry, Commerce, Agriculture and Fisheries (MICAF) that promotes business opportunities in export and investment to the local and international private sector. In facilitating the implementation of investment and export projects, the organization is a key policy advocate and advisor to the Government in matters pertaining to the improvement of Jamaica's business environment and the development of new industries.
What they can offer?
Step-by-Step Guide to Exporting - a workshop series which takes new and aspiring exporters through all the requirements and processes for export. This workshop includes presentations from the various agencies that support the export process (e.g. Plant Quarantine Division, Bureau of Standards, Customs, JIPO)
General Export Advisory Services
Exporter Registration – under the JAMPRO Act, all exporters are required to be registered with JAMPRO. The process incorporates a site visit to verify the exporter's location and other details such as the suitability of the premises for packing the products. Fresh produce exporters must utilize a packing house approved by the Ministry of Agriculture.
Directory of Registered Exporters & Suppliers – JAMPRO maintains a directory of all registered exporters and companies supplying the tourism sector.
Trade related workshops & forums – JAMPRO conducts 'doing business' workshops on various target markets.
Information & advice on funding opportunities Buyer Recruitment & Business Matchmaking – JAMPRO recruits buyers for Expo Jamaica which is held every 2 years in Kingston. Expo Jamaica 2016 was held April 14-17 at the National Arena and National Indoor Sports Centre. Jamaican exhibitors are facilitated in business matching meetings with buyers. The next Expo will be held April 2018.
Trade Show and Trade Mission Facilitation – Every year JAMPRO takes delegations of exporters to overseas trade shows and trade missions. Recent missions were undertaken to USA, Canada, Haiti, Panama, Cayman Islands and Cuba. JAMPRO also invites international buyers on inward trade missions to Jamaica. These buyers are introduced to export-ready companies in order to facilitate business between the parties.
The key Jamaican imports from the UK are consumer goods. Although the population of Jamaica is relatively small (circa. 3million people) Jamaica is a members of the Caribbean Single Market and Economy (CSME), which is a significant trading block of approximately 14 million consumers. JAMPRO wish to encourage delegates to consider using Jamaica as a transport and logistics hub from which to reach consumers in the CSME trading block.
Delegates will be keen to take advantage of the free trade agreement between CARIFORUM and the EU, to which both Jamaica and the UK are signatories. Post BREXIT, we anticipate a 'role over agreement' (i.e. the CARIFORUM-UK EPA).
Address: Greater Birmingham Chamber of Commerce 75 Harborne Road Birmingham B15 3DH