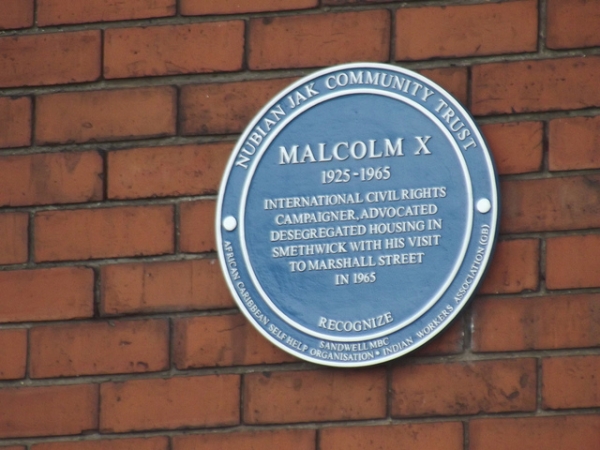 Malcolm X Remembered In Birmingham
A plaque is erected in Marshall Street, Smethwick, on the 47th anniversary of the civil rights leader's assassination
Written by Elizabeth Pears, The Voice Newspaper
21/02/2012 12:08 PM
A STAND: Malcolm X helped raise the plight of a racist housing policy in Birmingham
CIVIL RIGHTS leader Malcolm X will today be honoured with a blue heritage plaque in the Birmingham town where he campaigned to end its segregated housing policy.
It was on February 12, 1965, when El Hajj Malik El Shabazz paid an unexpected visit to Smethwick after learning how white householders had won council support to buy up empty homes to prevent African Caribbean and Asian house-hunters from moving in.
Malcolm X, born Malcolm Little, was in the UK following his visit to Mecca and tour of Africa.
His walk along Marshall Street attracted international media attention and within months of the visit a new administration had been sworn in and the policy overturned.
He told reporters: "I have come here because I am disturbed by reports that coloured people in Smethwick are being badly treated.
"I have heard they are being treated as the Jews under Hitler. I would not wait for the fascist element in Smethwick to erect gas ovens."
Malcolm X, however, was never able to witness the positive turn of events as nine days later – upon his return to the United States – he was assassinated, aged 39.
To mark the 47th anniversary of his death, a blue plaque is today, February 21, being erected in his honour courtesy of the Nubian Jak Community Trust – the only national Black and Minority Ethnic plaque and sculpture scheme.
Jak Beula, founder of the trust, said "It is an honour to be involved commemorating Malcolm X with a blue plaque in Britain on the anniversary of his passing 47 years ago.
"As an international figure for civil rights his impact was felt far beyond the shores of the United States and Africa. One of his legacies was a contribution to the desegregation of residential housing in Smethwick."
Marshall Street still attracts tourists who want to trace Malcolm X's footsteps making the plaque a welcome addition.
The event is supported by the Birmingham-based education group Recognize, the Indian Workers Association GB, who invited Malcolm X to Smethwick, the African Caribbean Self Help Organisation and Sandwell Council.
Avtar Jouhl, former general secretary of the Indian Workers Association GB who marched with Malcolm X that day, said: "He visited Smethwick in solidarity with the anti-racist movement in the United Kingdom.
"His visit enhanced the fight against racism and the defeat of Peter Griffiths in the 1966 General Election."
Griffiths, the Tory MP who represented the area between 1964 and 1966, was elected on an anti-immigration platform and was said to have told voters: "If you want a nig**r for a neighbour, vote Labour".
A film by Steve Page marking the 40th anniversary visit to the West Country was released in 2005.
Posted on: 21/02/2012 12:08 PM
Full Article here http://voice-online.co.uk/article/malcolm-x-remembered-birmingham