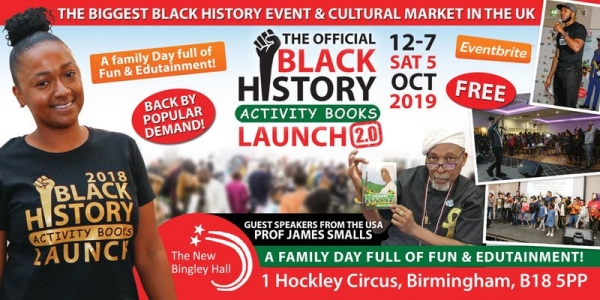 Saturday, 5 October, 2019 -

12:00

to

22:15
Description
Due to the huge success of the first Black History Activity Book Launch on Sunday the 7th October 2018, we are back by popular demand! We entertained over 2000 visitors and over 100 stallholders. As a result of the tremendous turnout and amazing feedback we are back bigger and better. This event is ideal for the whole family, bring your children and grandparents.
We have 10 new incredible books and merchandise that will be released. We may even have an extremely special guest from Africa. This will be the biggest black history event and cultural market in the UK for 2019. Get your free tickets now as this will be the place to be.
Over 900 Tickets have already been taken so please get your tickets before its too late!
Hosted by:
Birminghams very own Smash entertains and Shazzy D!
Guest speakers:
Professor James Smalls, Mfundishi Jhutyms and Nova Fielder (from the USA) will cover a multitude of facts about our remarkable history.
Queen Diambi Kabatusuila from Congo
Charmaine Simpson (Black History Studies)
Dr Mark Walcott Coving Health and Wellbeing
There will have various performances and a whole host of entertainment on one of our two staged areas; Stage one will be purely for entertainment including performers, dance groups and more. Stage two will be for presentations and lectors. We will have various presentations on health and wealth throughout the day. Our special guests
The main feedback we received on how we can improve future events, was to have a substantially bigger venue which prompted us to book one of the largest venues in the West Midlands! We are expecting to attract over 3000 visitors and over 150 Stallholders on the day.
We will have a designated children's area with bouncing castles, games, food stalls and a break out zone for people to relax and eat some the beautiful cuisines available.
Food, drinks, books, crafts, beauty products, garments and more will be available from the cultural market. Black businesses will also be promoting their services on the day.
This will be a great day to:
• Network.
• Meet old friends.
• Have fun and learn about our amazing history.
• Support black enterpanuers and buiness people from across the U.K.
• Get your christmas and kwanza presents/gifts from the Cultural Market.
• Eat the amazing food our stall holders have on offer.
The last event was a roll block and this event is due to be a sellout! There are only a limited amount of free tickets the rest of tickets will be for a donation. I look forward to seeing you on the day and wishing you all the best with promotion and sales when vending with us!
Check out last years event at:
https://www.youtube.com/watch?v=1M3308a4ags
Follow us on instagram and facebook for latest updates and more information.
Facebook: https://www.facebook.com/newborn.dezign
Instagram: https://www.instagram.com/blackhistoryactivitybooks/
Get your Black History Activity Books from:
Website: www.blackhistoryactivitybooks.com