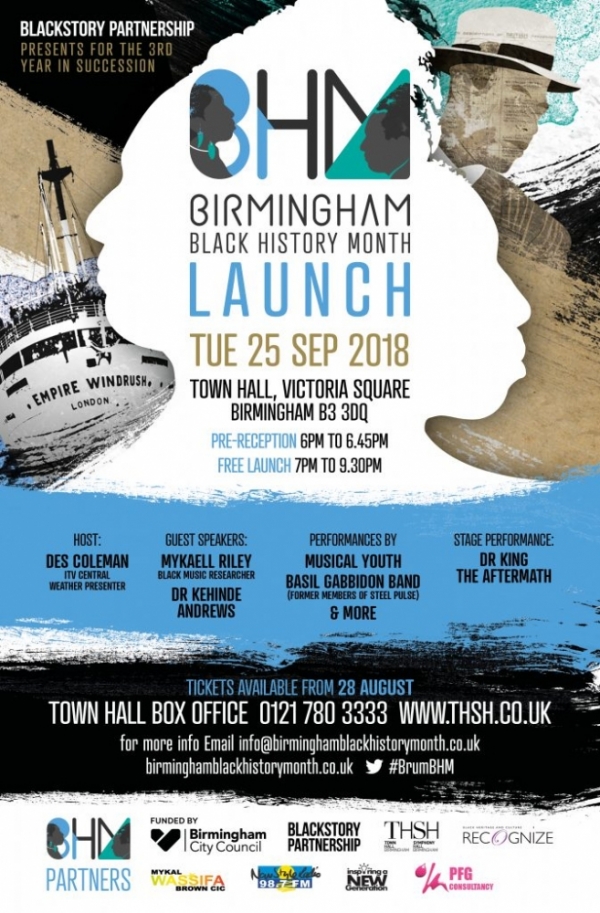 THE OFFICIAL LAUNCH
Tues 25 Sep 2018
Blackstory Partnership (Inspiring a New Generation, PFG Consultancy, Mykal Wassifa Brown CIC) in association with Recognize Black Heritage and Culture, presents for the 3rd year in succession Birmingham's Black History Month 2018 official launch celebration which will take place at Town Hall, Birmingham.
For further information please go to our website http://birminghamblackhistorymonth.co.uk
Our exquisite evening will be hosted by Des Coleman of Central TV. With an impressive line-up of speakers, performers and artists of the likes of Musical Youth and Basil Gabbidon Band (former members of Steel Pulse).
By way of a stage play, we will also be acknowledging one of the world's renowned Civil Right Leader's, Martin Luther King Jnr. Written by Tonia Daley-Campbell: Dr King The Aftermath, depicts the legacy of Dr King and asks the question of how far have we come in terms of equal rights and social justice?
Our guests will have an exhilarating, uplifting evening, which will reflect on our contribution to Birmingham's Black History.
Book Tickets
https://www.thsh.co.uk/event/black-history-month-2018-launch