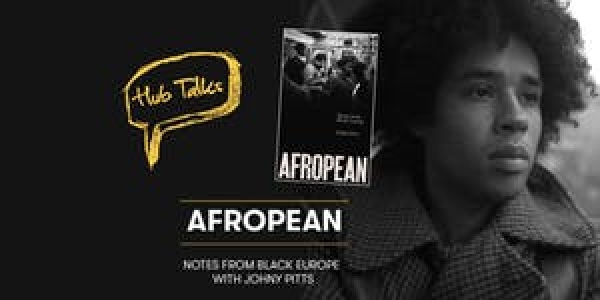 Monday, 1 July, 2019 -

19:00

to

22:00
Afropean: Notes from Black Europe
Afropean seizes the blur of contradictions that have obscured Europe's relationship with blackness and paints it into something new, confident and lyrical" - Afua Hirsch
We kick off our July Hub Talks programme with award-winning writer and photographer Johny Pitts and his new book Afropean: Notes from Black Europe in conversation with Ian Sargeant.
In Afropean, Johny Pitts sets out to explore the state of black culture and identity in Europe today. His lively, on-the-ground reporting documents the experiences of different communities, with Pitts travelling from his hometown of Sheffield to a Cape Verdean favela in Lisbon, an anti-Fascist demonstration in Berlin and the former Patrice Lumumba University in Moscow.
Pitts talks to numerous Europeans of African descent who are juggling their multiple allegiances and forging new identities: he meets the lead singer of Zap Mama – a musical ensemble from Belgium whose roots are in African World Music – and Almany Kanoute – a political activist from Clichy-sous-Bois who reveals what's really changed for black people in Paris since the 2005 riots.
Afropean is celebratory, eye-opening and timely book interspersed with original photography, Afropean makes a necessary contribution to redefining what it means to be a European today.
TICKETS: 
Tickets are free for members of Impact Hub Birmingham and £5 for non-members. Copies of Afropean will be on sale at this event courtesy of Foyles Birmingham and Johny will be signing books at the end of the evening.
Praise for Afropean:
"This book is a revelation: a humane, empathetic, urgent and truly eye-opening journey through lives and voices that are so often overlooked and unheard. Johny Pitts brings us Europe on its own terms" Owen Jones
"Fascinating, urgent and stirring. His humility and honesty are wonderfully refreshing and by the end of the book our perception of the old continent has been challenged and reimagined" - Bernardine Evaristo
More about Johny Pitts:
Johny Pitts is the founder of Afropean.com, an online user-generated journal which is part of the Guardian's 'Africa Network'. In October 2018, Pitts organised the Looking B(l)ack Symposium at the Bozar cultural centre in Brussels, which was a weekend of talks and performances dedicated to the notion of Black Travel.
Pitts has received various awards for his work exploring African-European identity, including a Decibel Penguin Prize and an ENAR (European Network Against Racism) award. In 2012, Pitts collaborated with Caryl Phillips on a photographic essay about London's immigrant communities for the BBC and Arts Council. You can follow Johny on Twitter here.
More about Ian Sergeant: Ian has an MA in Contemporary Curatorial Practice from the School of Art, Birmingham City University. Recently curated exhibitions include Reimaging Donald Rodney exploring the digital embodiment and rich legacy of the late Black British artist Donald Rodney. He is a director of performing and visual arts organisation Kalaboration, and artist-led exhibition space Ort Gallery. He is currently a Midlands 3 Cities AHRC funded PhD research student at Birmingham City University, his practice-led research is focused on the Visual Representations and Cultural (Re) Constructions of Black British Masculinities in 21st Century Birmingham. 
Hub Talks is our regular programme of world-class writers, thinkers, filmmakers, performers and more.
Over the last 4 years we have been implicitly growing our reputation for convening to hear from deliberate and nuanced writers such as New York Time #1 best selling writer Angie Thomas, Afua Hirsch, Patrick Ness and Patrisse Khan-Cullers, as well as collaborative events with one of the nation's favourite bakers Nadiya Hussain and The Good Immigrant with Nikesh Shukla and Birmingham Literature Festival, our approach to programming has consistently been about quietly showing a different story.