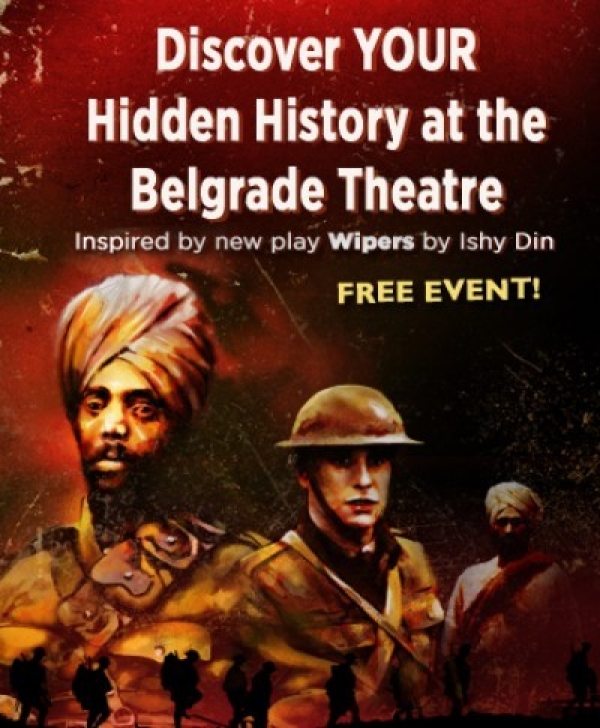 Belgrade Theatre Coventry
Discover your Hidden History
11am - 2pm, Sat 14 May
Tickets: FREE Event
Details
Dates & Times
Did you know that four million men and women from Britain's colonies volunteered for service during the First and Second world war?
Did you know that over one million South Asian soldiers joined the allied forces in WW1 and that nearly 20,000 Caribbean soldiers served on the front line in the Somme, Passchendaele and, on the Middle Eastern Front, Palestine and Egypt?
Did you know that 12 Victoria Crosses were awarded to Indian soldiers in WW1, one of the highest percentages received by any nationality during the conflict?
Join us for a free morning of interactive talks, demonstrations and dramatic readings as we delve deeper into the fascinating history of the Great War this May.
To celebrate the opening of Ishy Din's new play, Wipers, this free half day event will seek to shine a spotlight on the incredible contribution made by Black and South Asian soldiers to the First and Second World War.
Matinee and evening performances of Ishy Din's Wipers will run at 2.15pm and 8pm on Saturday 14th May with tickets priced from £10.25 – £17 with concessions available.
Free events throughout the day include:
Extracts from Across The Black Waters with Asian Youth Theatre and Dominic Rai from Salt of the Sarkar.
The Black Contribution to WWI presented by Garry Stewart from Recognize – Black History and Culture.
How to Use Archives with Warwick University's Modern Records Office.
Empire, WWI and Modern British-Asian Muslim Identity – a talk by Dr Avaes Mohammed from British Future.
Food on the Frontline – Dhal/Pinni Demonstration from Food Union
Memory Corner – bring your mementos and memories about your family, coming to Coventry and your past.
Journey to the West – a film about South Asian soldiers in WW1 and WW2
Empire at War – an exhibition on loan from the Herbert Art Gallery about soldiers from all over the British Empire in the World Wars
What's YOUR Hidden History?
Are you a resident of Coventry and Warwickshire with family connections to the British Indian Army during WW1 and WW2? If so, the Belgrade Theatre wants to hear from YOU.
The Belgrade Theatre is particularly interested in hearing from local residents with family or community links to Indian soldiers (Hindu, Muslim, Sikh and others) who fought in The Great War between 1914-1918.
If you have a memory, photo or story that you would like to share, please contact Kate Evans (Communications Officer – Press and Digital Media) on Tel: 024 7684 6715 or email:
Alternatively, please bring your photographs, letters or any other materials along to our free 'Memory Share' drop-in session on Sat 14th May taking place in the Belgrade Theatre restaurant between 11am – 2pm on Sat 14th May.
All productions
Rehearsal for Murder
Discover your Hidden History
You may also be interested in…
Wipers
Wipers
12th May - 21st May
Singing For The Brain
Singing For The Brain
16th May
Dementia Friends Information Sessions
Dementia Friends Information Sessions
16th May
Sinatra, Sequins & Swing - The Capital Years Live!
Sinatra, Sequins & Swing - The Capital Years Live!
17th May
Back to Top
Join our Mailing List:
Your email address...
Join
Follow us on:RSSFacebookTwitterYoutube
BELGRADE THEATRE
Belgrade Square,
Coventry, CV1 1GS
BOX OFFICE: 024 7655 3055
ADMINISTRATION: 024 7625 6431
REGISTERED CHARITY: 219163