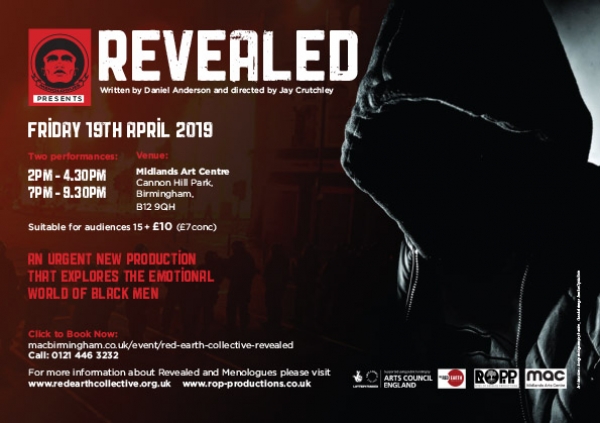 Friday, 19 April, 2019 -

02:00

to

19:00
Revealed: A Menologues Production 
Fri 19 Ap   Booking info
Event Information
Price:
 £7.00 - £10.00
Duration:
150 mins
Age:
 15+
A new play from The Red Earth Collective and Rites of Passage Productions. Written by Daniel Anderson & directed by Jay Crutchley.
A recent death in custody has stunned the nation, resulting in violent protests across the country. Restaurant owner Malcolm Lovett, his son and his father are inside, whilst violence erupts around them. What follows is an edgy and abstract unraveling of emotions, providing these men with a unique and profound insight into three generations of anger.
This is the first production from Menologues, a series of events that explores the emotional world of Black Men and how they express their feelings through thought provoking drama and other artistic media forms.
Menologues comes from the Red Earth Collective producers of StereoHype, a mental health arts festival featuring fresh, new work from African and Caribbean artists. 
Includes Q&A with the cast and mental health professionals
They will be two screenings 
Friday 19th April 2019  2:00pm
Friday 19th April 2019 19:30pm