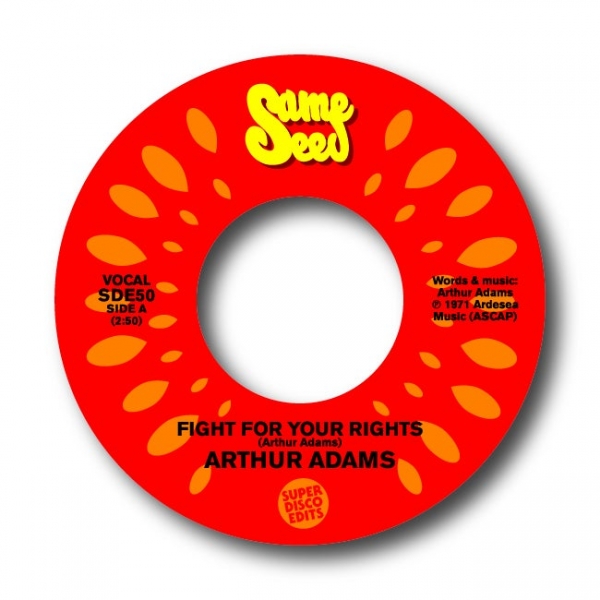 Tuesday, 12 May, 2020 - 18:00

to

Sunday, 31 May, 2020 - 18:00
The power of music with a nifty video cut edit from Russell Paine, from the guys at Super disco edits who specialise in unissued soul music from the 1970s and early 1980s. Thank you.
Hitting hard like a hammer we have unearthed the fist-pumping fight for you rights power SWAM 45 like no other. Sung and performed by legendary soul and blues artist Arthur Adams. The session was recorded sometime between 1969 & 1971 and fuelled by discontent amongst young and old black Americans for a consistent lack of equal rights and suppression across the U.S.A. Backing Arthur Adams on the track was none other than some of The Crusaders. Joe Sample (Keyboards) Stix Hooper (Drums) Wilton Fleder (Bass) and Al Versova (Guitar). Somehow this studio reel was sent to a West Coast a&r person for a view to public release. We are unsure why the tracks got overlooked, but we are happy to have them for our 50th release. A-"Fight for your rights" could stand toe to toe with Bobby Bland, Joe Tex and Sebastian Williams and many other hard-hitting artists who have been revered on the soul scene for the past 50 years. Its hits hard with its message but musically punches you across the dancefloor with its driving drums and guitar licks. Mastered from the original reels we made sure each element was on point for that 45 vinyl release. B-Sure is funky down here" is exactly what it says on the tin! A fast-paced down-home style funk instrumental, but what we love is it lets rip halfway through with a ferocious drum break and bassline breakdown. So in keeping with its 1971 production.