Saturday, 12 October, 2019 - 18:00

to

Sunday, 13 October, 2019 - 02:00
The Association of Jamaican Nationals Birmingham (UK) is proud to be holding its 2019 Local Heroes and Be Inspired Youth Awards on 12th October. This year Gala will recognise and celebrate outstanding achievements of what is the best of the Caribbean Diaspora and the wider British community in the development and sustainability of the British way of life.
This event will celebrate the positive virtues of Jamaican culture and its diverse people and the contribution to the economic, social, and political and community life of the United Kingdom.
Honouring those across all communities that have changed things especially by solid, practical achievement; whose work has brought distinction to British life and have enhanced the UK's reputation in their area or activity.
You can now nominate your local hero or Be inspired youth for 2019 by requesting an application form by contacting Diamond Travel on tel: 0121 454 6990 or Email: info@ajn-birmingham.org.uk.
Featuring• International & Local Musical Entertainment • Guest Speaker • Cabaret • 4 course meal served with wine.
Gala proceeds will benefit • The National Caribbean Monument Charity (https://thenationalcaribbeanmonument.org/) • Mustard Seed Communities Jamaica • Tropical Medicine Research Institute - Sickle Cell Unit and Clinic.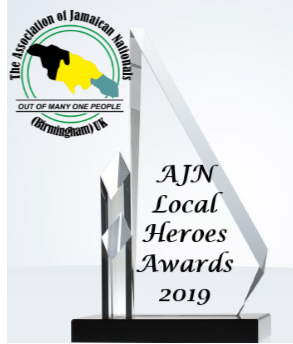 Dress Code • Black tie or National dress